Koala Man Writer and EP on Hulu's New Animated Series
Koalas writer and executive producers Dan Hernandez and Benji Summitt discuss teaming up with Michael Cusack to bring his eccentric superhero to Hulu.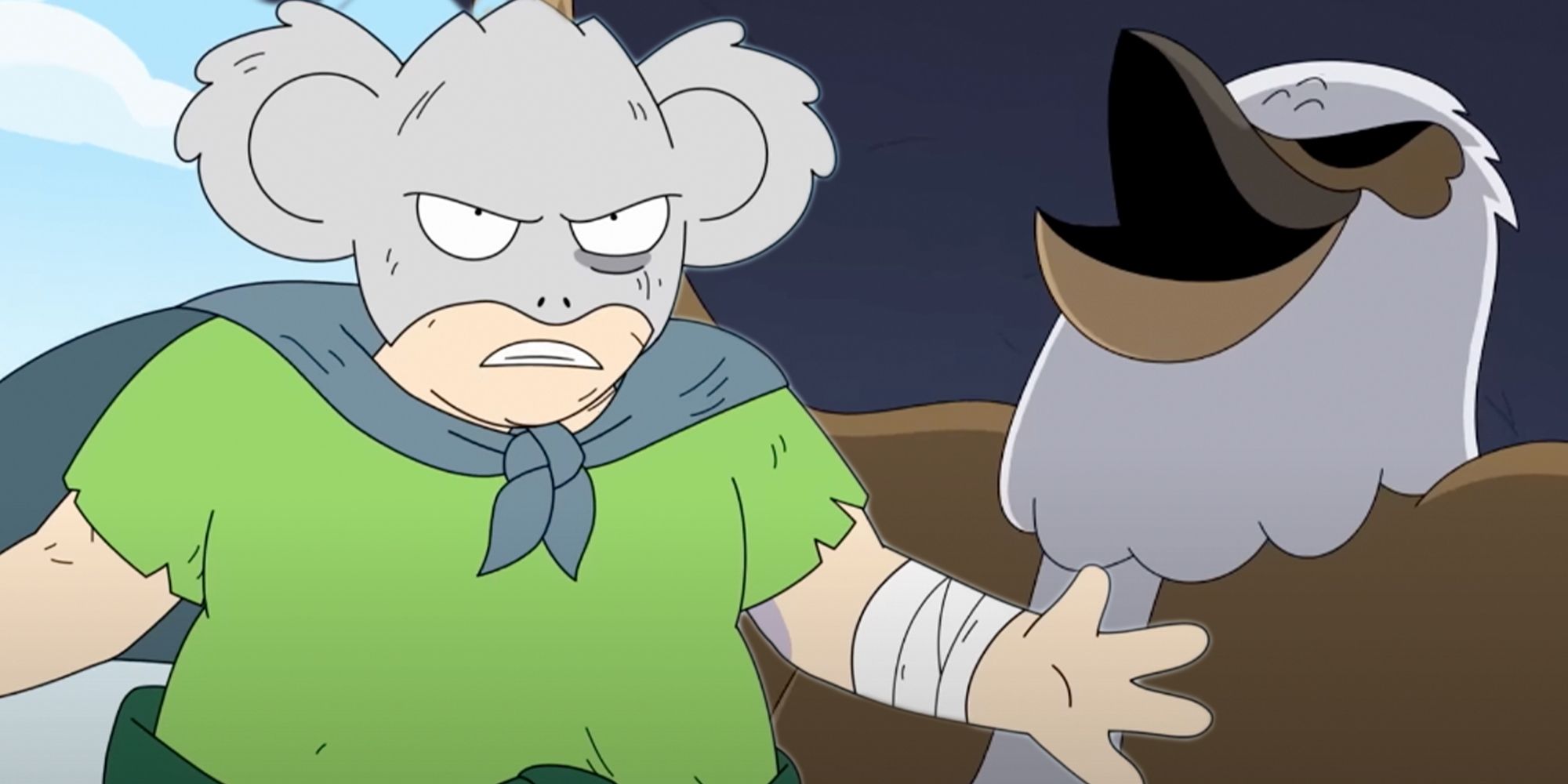 Hulu's new series "Koala Bear" is a side-splitting concrete take on the superhero genre, and it's often surprising. Created by Michael Cusack, who rose to fame on Adult Swim's Smiling Friend and YOLO: Crystal Fantasy, Koalas centers on a rather mundane superhero and his family, spawning Funny effect. Cusack voices the Koala himself, and the show has a stellar supporting cast including Sarah Snook ("Honor of Kings"), Jermaine Clement ("Whirlwind"), Milan Da Otto (The Lord of the Rings films) and Hugh Jackman (Logan).
Cusack worked primarily with shorter forms prior to Koala Man, and brought his world to life with help from writers and executive producers Dan Hernandez and Benji Samit. Hernandez and Samit are close collaborators who have previously written and produced many beloved projects, including Detective Pikachu, The Tick, and Central Park. Not only did Samit and Hernandez work with Cusack to develop Koala Man into an 8-episode series, but they also wrote the show's second episode.
Samit and Hernandez spoke with Screen Rant about building a season of Koala Man, working with Hugh Jackman, and more.
Dan Hernandez and Benji Samit on Koala Man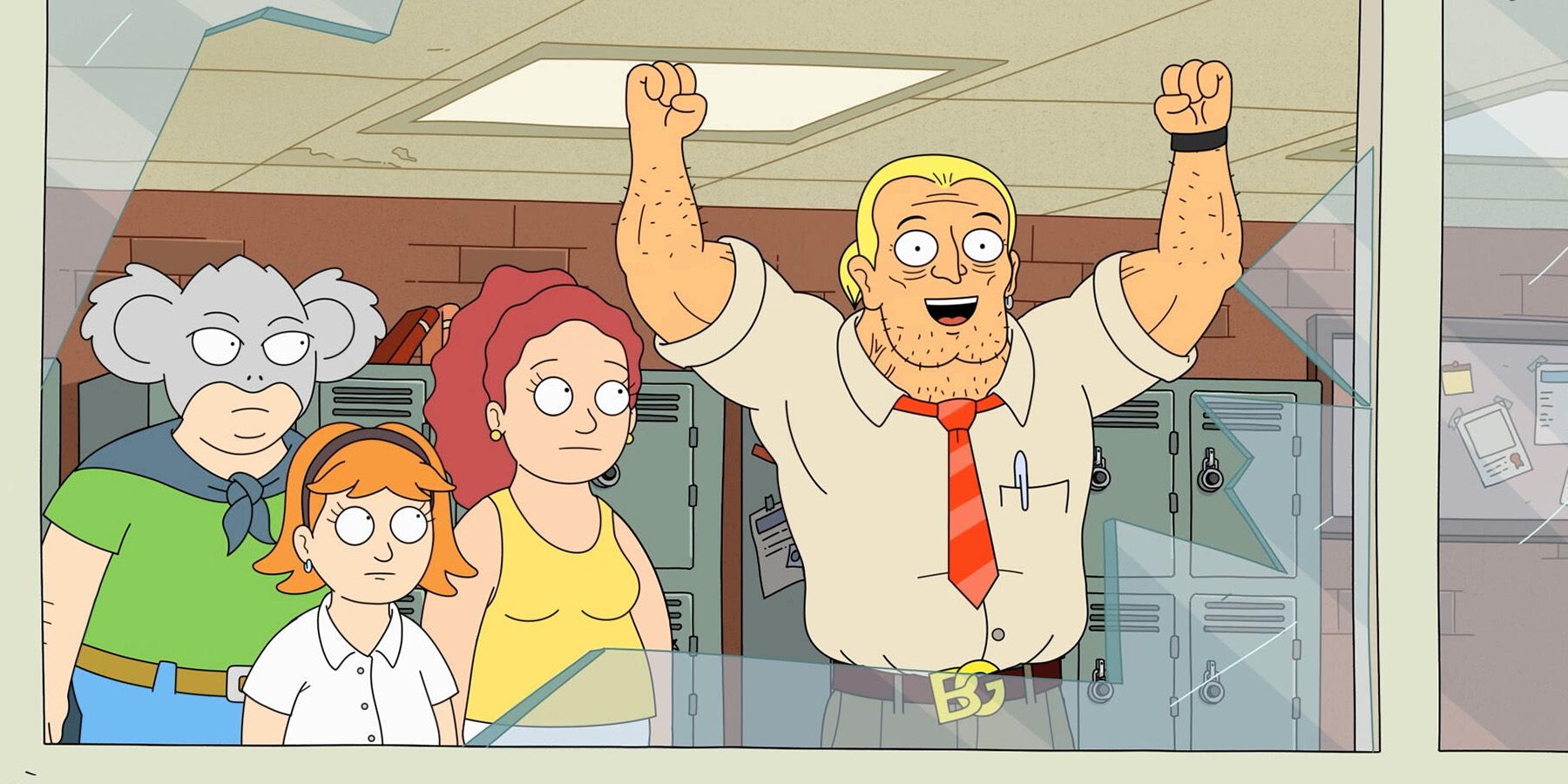 Screen Rant: You two made a deal with Fox Animation, which is how you found this item. What shape was it when you got it, and what was your original role as executive producer?
Benji Samit: Michael made three YouTube shorts with the character, and they sent those to us, and we just instantly fell in love. We thought it was so funny, [and] so unique; his point of view, his vocal performance, the character. We're both genre nerds, so [especially with the] spoofing superhero tropes, we were so onboard. We sat down with him to just talk about it, and it was instant chemistry. We clicked, we had the same vision for what we thought this show could be, and from there, we shaped the pilot with him. We developed it into a half-hour show and [thought about], "What does the season arc look like?" Dan Hernandez: I would say that our main functions, especially at the beginning, as showrunners and co-developers of the show with Michael, were twofold. One - don't lose Michael's voice and point of view. Don't try to soften it, don't try to flatten it, don't try to make it more palatable to what we think an American person might like. That felt like the absolute death of the uniqueness of the show. So, that was one - protecting the structural integrity of the show. The second thing that we were able to bring based on our experience writing movies and working extensively on TV shows, including some superhero shows like The Tick, was how to tell a long-form story in an American style. Smiling Friends is one of my very favorite shows, YOLO too, but they are half the length of these shows, and they don't necessarily have sustained narrative as such. I think that for Michael, this was a bit of a new challenge in how to not only keep all the great things about his point of view and his character, but also, the three of us felt really strongly that we can actually tell a real superhero story. Yes, it'll be funny, yes, it'll be crazy, but we [wanted] people [to] look back and go, "Did I accidentally watch a great superhero story?" That felt like a fun challenge to us. So at the beginning, those were the kind of the dual imperatives as showrunners coming into something that already existed, but that needed to be further molded into what it is now.
Is this a difficult balancing act? After watching the entire season, each episode stands on its own completely, but a lot of things pay off in the end.
Dan Hernandez: It was challenging, quite honestly. Benji Samit: We started writing pretty standalone episodes with a little bit of thought of where it was building to, but then once we and the writers cracked the finale and were writing that, then it was like, "Well, what can we go back and tweak?" There was a lot of them going back to other episodes, making sure we laid in the right clues, and setting things up. It was a natural development, but it was important to us to have it build to something, [and] to have it have a satisfying conclusion. We're the type of writers where even within a single episode, we like to pay off everything we set up. We like it when A stories and B stories come together, and thins like that. [These are] things that you don't always have to do; there are plenty of great shows where A stories and B stories are separate and not everything comes together, and we still like the show and enjoy it, but as writers, that's very satisfying to us. We set that as a goal, and sometimes, when we're deep in the thick of it, we're like, "Why did we do this to ourselves?" but I'm happy when I hear from someone that it was worth it. Dan Hernandez: We really wanted every episode to be enjoyable as a distinct unit of television, because we love episodes. We love television. But also, we felt like in the age of streaming, it had to be rewarding to sit down and watch it straight through. If you're going to do that, you now have the opportunity to tell a longer-form story. Sometimes I say we lit a long fuse on certain things, and that bomb didn't explode for five episodes. They make fun of me in the writer's room, but sometimes I say "We're making an investment on comedy. We're putting our comedy in the bank, and in a few episodes, the interest that we will yield out of this comedic investment will really be satisfying." Every now and then we would do something like "Pissy Chrissy" that didn't necessarily seem connected or that important, and then of course later you'd be like "Oh, my God, that was actually the most important thing that happened in the entire season." Benji Samit: But when we first came up with that story, that wasn't even necessarily where it was building to. It did sort of start as just part of the origin story, and then as we were developing the rest of the season and that finale, it was like, "Well, let's, let's connect it all together. It'll feel that much more personable and personal." When we came to that realization, that's when the entire season really clicked. Dan Hernandez: We were able to go back and lay the seeds of what was to come.
You two wrote the second episode. Was it hard to take advantage of Michael's specialness?
Dan Hernandez: I think it's an ongoing challenge, and I think that is one of the benefits of having worked in television and on staff extensively over the last ten years. Especially at the beginning of your career, one of the major benchmarks is, "Can you capture the voice of the showrunner or the creator?" Whether that for us was someone like Jon Lovett on 1600 Penn, who has a very distinct way of talking, or Ben Edlund, who basically is The Tick. He talks like The Tick, he thinks like The Tick, so when would write a line for The Tick that Ben actually liked, we'd go, "Okay, we must have done something right if he didn't change this line, because it must have felt like The Tick." Benji Samit: Also, the more time we spent with Michael and the other Australian writers, and our Australian animators, we were getting better and better at it. [With] the first scripts that we wrote, Michael would then do a pass and change a lot to make it more Australian, or the other Australian writers would be like, "Oh, this, this this." Later on in the process, we'd write stuff and there'd be less to change because they're like, "Oh, you get it." Dan Hernandez: We sort of took those lessons into ourselves as much as possible, and I think now it's just something we'll be living with for the rest of our lives, because we've adapted all these Australian idioms.
The cameo stars are incredible. You have Jemaine Clement, Hugo Weaving and Hugh Jackman. Are any of these people convincing?
Dan Hernandez: No, and that was actually the amazing thing about it. You never know until you ask. Benji Samit: And there are some people that have said no - Dan Hernandez: Fools! Benji Samit: But yeah, you take the shot, is the lesson. It doesn't hurt to ask. Hugh was so excited, and so into it, and I think the weird Australian-ness of it just tickled him in a way where he was just like, "Yeah, I have to do this." Dan Hernandez: He was the easiest. He said his kids thought it was really funny, he thought it was really funny, and he was like, "Yeah, I want to do this." I think it really tickled him that there was a show set in Dapto. Benji Samit: And then I think similarly, [with] Hugo Weaving and Miranda Otto, I think these are amazing actors that don't get offered things like this very much. Dan Hernandez: Because they're such amazing dramatic actors, maybe they don't have a chance to flex the comedy. Benji Samit: There has also just never been an adult animated Australian primetime show before - not even in Australia, let alone in the US. The opportunity just wasn't there for some of these actors, and so we're getting these amazing Australian actors that are just excited that the show even exists. Dan Hernandez: We were really very fortunate in Sarah Snook, [from the] Emmy-nominated biggest show in the world, Succession. She thought it was cool to be able to be her Australian self, and be a character very different than Shiv Roy, and be the emotional center. The whole world of Koala Man is Vicky. We were just really fortunate that all these people said yes, and I pinch myself every day.
About Koala Man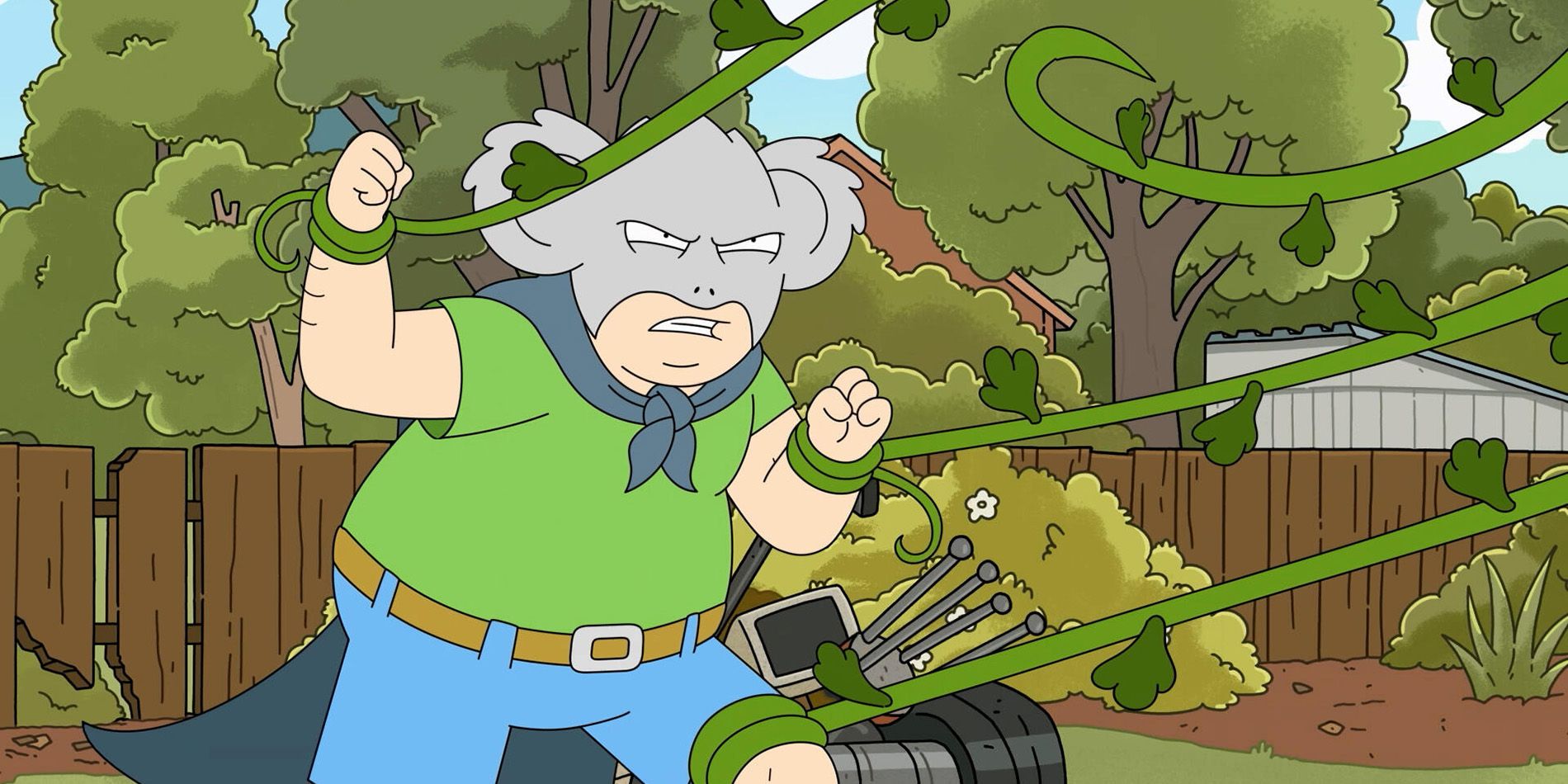 "The Koala Man" is about middle-aged father Kevin and his nominally not-so-secret identity, whose only superpower is a ferocious passion for following the rules and stifling petty crime in the town of Daputo. Although it looks like any other Australian suburb, cosmic and man-made evils are poised to strike unsuspecting Duptonians. In order to clean up his hometown and often involve his frustrated family in his adventures, Koala is always at the ready. He'll stop at nothing to defeat nefarious masterminds, supernatural terrorists, or worse: bastards who don't take out the trash can on the right day.
Check out our other Koala Man interviews here:
Next: Smiling Friends: 10 Things You May Have Forgot About Season 1